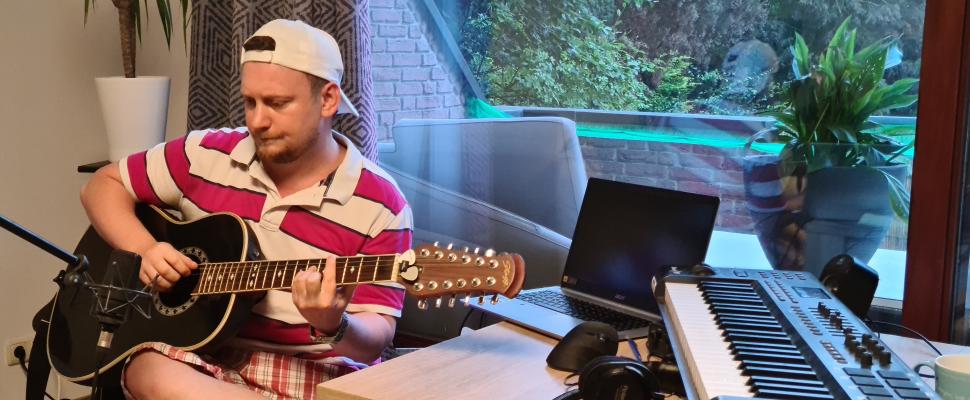 Hi, welcome to my Homepage.
I´m VBeatner.
In my family music was always very important. From my childerhood I've learned several music instruments, step by step - accordion, guitar - rhythm, solo or bass; piano - self-educated or sometimes with a help of my father... And years later - many internet tutorials... 
In 1995 my family moved to Germany where I passed my school and University degree to a Mechanical Engineer. During this period music was always my loyal companion. So, it was a great joy to get the first keyboard, my first acoustic and then an electric guitar. 
In the meanwhile, I had luck to learn playing drums, solo and bass guitars being in the school band. 
In the end of 90's, I have tried my first PC music program and the first microphone, recording and sampling my very first tracks. This was the beginning of my producer's live for which I gladly dedicated a big amount of my time. 
In the beginning of the 2000-s I've learned some other musicians, we became good friends and started some common projects. Once we have found a room for our first music studio and spent all our time and money for its renovation and all music equipment. This was before and during my study. Besides I was co-working in establishing a music studio as a project in a youth center and worked there as a music producer for about eight years. 2008 I´ve started my own recording studio B-M-Records.
After study I had to give up my meanwhile own studio rooms and began working for the industry as a mechanical engineer. This was my creative break for a couple of years, while I still made some music but relatively rarely, with the same equipment which was moved into my living place. 
In the second half of 2018 I resumed the music project in the youth center once a week and began to invest more time for creating and editing new and already existing compositions, with additional effort and passion. This was also the starting point of this page's foundation which will be filled with more and more content. There are still so many incomplete but very nice tracks and ideas, which were gathered over the years and still being in process... So - feel free to visit my homepage and to stay tuned!
In a nutshell:
Music instruments: accordion, button accordion, Keys, Solo-, rhythm-, bass-guitar, drums

Languages: German, English, Russian, Polish, a little French and other...

DAW: Pro Tools (Digidesign / AVID), Cubase (Steinberg), Reason (Propellerhead)
All beats, songs and instrumentals on this homepage are self-composed, recorded, mixed, mastered etc.